TÜRK LOYDU has been registered as a 'facility' by the Chamber of Naval Architects and Marine Engineers in 1962 after making its first General Assembly with the contributions of the Turkish Union for Insurance and Reinsurance Companies and has become a national, independent and impartial 'foundation' in 1967. 
Türk Loydu Foundation supports:
• Training Scholarship
• Training and education aids
• Research and Development funding
• Technical personal education program aids
• Developing the knowledge level of the industry
• Sponsorships
 
At the beginning of 1998, Türk Loydu Foundation Economic Enterprise has been established to perform the activities connected to the Türk Loydu Foundation and organs whose only duty was to carry out lofty objectives. 
Change of legal status of Organization from Türk Loydu Foundation Economic Enterprise to Türk Loydu Conformity Assessment Services Corporation (Türk Loydu Uygunluk Değerlendirme Hizmetleri Anonim Şirketi) in accordance with Turkish Commercial Code was realized and issued in Turkish Trade Registry Gazette of İstanbul number 9303, dated 11th April 2017.
INTERNATIONAL REGISTRIES, INC. and its affiliates (IRI) provide administrative and technical support to the Republic of the Marshall Islands (RMI) Maritime and Corporate Registries. The RMI Maritime Registry is the leading quality registry in the world with both the youngest and greenest fleet in the world surpassing 192 million gross tons with 5,198 vessels at the end of June 2022. IRI has a network of 28 worldwide offices that have the ability to register a vessel, including those under construction, record a mortgage or financing charter, incorporate a company, issue seafarer documentation, and service clientele.
 The RMI continues to be on the white lists of both the Paris and Tokyo Memorandums of Understanding, and has also maintained QUALSHIP 21 status with the United States Coast Guard for 18 consecutive years, which is unprecedented. These factors, in addition to the Registry's investment in people and expertise, also contribute to the overall growth of the Registry.
The most important asset to the RMI Registry is its customers and IRI strives to provide them with full service from any office, 24 hours a day, seven days a week. To learn more, visit:  www.register-iri.com.
MOVERS Denizcilik Tic. A.Ş., is a newly established ship management company located in Istanbul Turkiye, giving service in the fields of in-house technical, HSEQ, operation, chartering, purchase, and crew desks.
We have six vessels in our fleet which is our core business. Additional to our core business, we act as time charter owners, operators, and contract holders to meet our business partners' additional requirements. When necessary, to assist our Business Partners, we act as Asset Managers, Sale, and Purchase brokers, and Agents on their behalf.
MOVERS' main goal is to provide trustworthy, high quality, and professional ship management services to Ship-Owners and Charterers and the seafarers in the maritime industry.
UZMAR was founded in 1984 by senior Harbor Pilot Captain Altay Altug as the first privately established pilotage and towage company in Turkey to serve at various private ports and harbors on the Aegean Sea, Turkey.
Today, UZMAR serves public safety at four different ports in Turkey; pilotage at Nemrut Port, Izmir, pilotage and towage at Akcansa Port, Canakkale, towage at Ambarli Port Istanbul, and Iskenderun Port, Hatay.
In 1996 UZMAR started to build tugboats and workboats for its own fleet requirements and later for international markets using compact tugboat and offshore vessel designs. Through the achievement of building numerous tugs and workboats, in 2007, UZMAR established a modern shipbuilding facility at Kocaeli Free Zone, near Istanbul, Turkey.
UZMAR Shipyard is invested in new technologies like autonomous vessels and methanol powered tugboats to extend its product line with a highly competitive in-house design and to conduct its know-how to the future.
Having built more than 200 vessels and delivered them to more than 25 countries on 6 continents, today, UZMAR Shipyard has grown into a world-class pioneer shipbuilder. The Shipyard has become the first choice of the leading tug owner companies of the world for their signature new-built projects.
UZMAR Web Site: www.uzmar.com
GIMAS Ship Supply & Services has been launched in Istanbul in 1992. We have become the leading ship supplier company in Turkey thanks to the corporate innovation approach on the first day that has carried us to a successful future.
As a company that is operating in three different countries; we are aware of how important it is to gain experience and sustain "Global Reach". We regularly extend our operation zones with new offices and warehouses. We currently have branch offices in Rotterdam, Mersin, and marketing offices in Tuzla, Athens.

Our most significant aim is winning your trust; thus we invest in the future of the shipping industry with the power we get from the past. With our intense efforts, dynamic professional staff and primary principles of honesty and service quality, we are happy to be a part of maritime industry also in the future.
OUR SERVICES FALL INTO THREE MAIN CATEGORIES:
General ship supply
Technical & engineering
Logistics & freight forwarding
We offer our clients a wide variety of products covering all kinds of provisions, cabin, deck, engine stores, bonded items, stationery, galley utensils, disposables, nautical publications, spares / machinery, chemicals, maintenance products, laundry services, customs brokerage and the list goes on.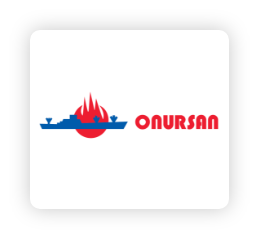 ONURSAN MARINE SAFETY
The story has begun in İstanbul, Turkey when the company was established in 1983. Our owner and founder is a marine chief engineer with almost 50 years of maritime experience.
We are thinking always to improve our sevice quality and gain more customer satisfaction. Onursan can provide you the sevices with the most experienced technical team in Turkey. Now that we are also serving our customers in USA, we are able to offer you same range of services.
We know the importance of life at sea and we know that you need a sevice company.
Onursan is adding the new vision of marine fire and Safety sevice to the marine industry market by its reliable name and innovative approach to its customer needs. Not only we like to achieve more success on getting our company to a higher leauge of competion but also we would like the others to follow the path that we have created. We take pride in what we have achieved with our the most experienced team.
Being a family business company has never helped us more than anything to be a real family with our co-workers. Yes we are a family, a big family whom can trust, when and wherever you need FRS service for you ships. Because we know this job more than any others here..