Istanbul and Marmara, Aegean, Mediterranean and Black Sea Regions Chamber of Shipping, briefly called the Turkish Chamber of Shipping (TCS), is an important professional organization of the Turkish maritime sector, with its headquarters in Istanbul and main branch offices in Izmir, Bodrum, Marmaris, Antalya, İskenderun, Fethiye, Karadeniz Ereğlisi (West Black Sea Region) Kocaeli and Aliağa. It has a Liaison Bureau in Ankara and also representations at all the coastal towns and cities in Turkey. Turkish Chamber of Shipping was first established as Istanbul Chamber of Shipping in 1982 by a group of Turkish shipowners led by Mr. Ziya Kalkavan, the reputed Turkish shipowner and afterwards its area of activities has been extended gradually so as to cover the region of the Sea of Marmara, the Aegean Sea coast and the Mediterranean coast of Turkey, then finally the Black Sea coast of the country. 
"Turkish Shipbuilders' Association (GISBIR) was established by shipyard owners on 07.07.1971 in Istanbul. GISBIR is one of the oldest non-governmental organizations in Turkey and representative of the Turkish ship and yacht building, repair and maintenance industry. Improving the Turkish shipbuilding industry, helping the Turkish shipyards to take place in the world market, finding solutions for problems of shipyards through relevant authorities, associations, and organizations, representing the Turkish Shipbuilding Industry in national and international areas are among the missions of GISBIR. Turkish Shipbuilders' Association (GISBIR) has almost one hundred members and represents vast majority of the industry. GISBIR is a member of  Waterborne TP and SEA Europe also, Council Member of ASEF (Active Shipbuilding Experts' Federation)"
YAF DIESEL is one of the YAF GROUP companies that have been operating in the maritime industry since 2008 .... The YAF GROUP is active in all segments of maritime business and consists of experienced, maritime origin Captains and engineers. The group provides ship spare parts supply service together with the repair and maintenance service for ship engines in its own offices located in Istanbul/Turkey-Head Office, Busan/Korea, Shanghai/China, Bremen/Germany. The group is the leading company of Turkey in ship's spares and equipments supply with its 160 employees all over the World. YAF DIESEL is the authorized representative of the BSKY that produces the only BWTS w/out filter. The company is representative of the well -known other ship equipment and spare parts manufacturers in Turkey as well.
Optima has been acting as a gateway to shipping services since its establishment.  Through pioneer and innovative offerings, it has managed to establish itself as  one of the industry leaders. Acting as a one-stop-shop for its clients, Optima has  developed a devoted team which will act as a shipping company's valuable partner  in every possible aspect of its business.
Optima began its journey a few decades ago. Striving to become pioneers in the  shipbroking industry, the group quickly managed to become the biggest in the Greek  market. This was achieved by diversifying and streamlining its range of services  to cover each client's needs, from S&P and Newbuildings, to ship recycling and  valuations. With the establishment of the Sale & Purchase Department in 1996, the  company expanded its activities in a growing market, as a direct response to shifting  market needs. With its entrepreneurial thinking and deep industry knowledge,  Optima has all the tools needed to help shipping's decision makers grow their  company in the most effective way. Today, Optima Shipping Services is the shipping  industry's main partner and acts as a one-stop-shop for the maritime business.
"Unite the Shipping Centers through Local Knowledge". This business moto has  been the driving force behind Optima's expansion through the years. In 2004, the  shipbroking group established its presence overseas, with the inauguration of the  office in China (Shanghai). This was followed in 2006 with the Middle East office  (Dubai), which turned Optima into one of the largest shipbroking groups in Europe.  Today, Optima operates a total of four offices (Athens, Istanbul, Dubai and Shanghai),  bringing together the core values which have been firmly placed at the center of its  business: trustworthiness, professionalism, integrity and personal touch.
Maritime is the main field of activity of EOS Group whose roots date back to 1917. The Group continues its operations with Armador Ship Management, EOS AgrIculture, Dentaş, Torgem and Çindemir shipyards, which are among its subsidiaries. The EOS Group that always prioritizes speed and quality in the sector, is a business community established with wholly local capital.
Armador Ship Management has diversified its services with, general cargo bulk carrier and tanker-type vessels and expanded its service area thanks to its steady growth.With a carrying capacity exceeding 400,000 DWT.
EOS AgrIculture, is among Turkey's most distinguishedagriculture companies with 2000 acres of walnuts and almonds garden established in 2010 with 100% local capital.
Dentaş Shipyard continues its activities in Tuzla district, the most important shipbuilding center of Turkey, with its facilities covering a total area of 18,000 square meters, of which 6,114 square meters are indoors.
Another company of us that serves the sector as Çindemir Shipyard, was established in 1917 as a workshop to repair the iron parts of wooden vessels, and moved to Istanbul/Tuzla Shipyards Region in 1991 and increased its capacity with a new floating dock with a lifting capacity of 5000 tons in 2007.
The last company added to our group is TORGEM SHIPYARD has established itself as a respected player in the Turkish shipbuilding industry in part thanks to its pristine record of over 100 successful turnkey deliveries and our capability to provide tailor made solutions to be your shipbuilding partner
SOCAR Turkey Enerji A.S. (SOCAR Turkey), a subsidiary of SOCAR (State Oil Company of Azerbaijan Republic) which is one of the most deep-rooted global oil and natural gas companies, initiated its business operations in Turkey upon acquisition of 51 percent of the shares of Petkim from the Privatization Administration in 2008.
 Drawing attention with its giant projects realized one after another which will have a total investment value of 19.5 billion US Dollars once completed, SOCAR Turkey encompasses the best-in-breed companies such as Petkim, TANAP, STAR Refinery, SOCAR Terminal, Petkim RES (Wind Power Plant), Bursagaz, Kayserigaz, Enervis, SOCAR Enerji Ticaret, Millenicom, SOCAR Ticaret and SOCAR Depolama.
SOCAR Marine, has a very strong position in Turkish market with a storage capacity of 80,000 cubic meters in the Gulf of Izmit, as well as in Iskenderun and Mersin with a strong supply network and 14 barges  and 820,000 tons/year transit sales.
SOCAR Marine also started selling marine fuels in the domestic market in a wide range from passenger and cargo ships to tourism boats, fishermen and  public institutions in the Marmara Region,  Aegean Region, Blacksea Region and Mediterranean Region since 2021 August.
As main target; SOCAR Marine started to work on adding new products to its product range in the next 5 years, aims to quickly respond to the search for alternative Fuels in the Maritime business, with the integration of the Oil Refinery STAR, Petrochemical Refinery PETKIM, as well as ongoing NATURAL GAS distributions around the national and international area.
With more than 81 years of experience, Petrol Ofisi is Turkey's leading fuel, LPG distribution and lubes company with more than 1.900 fuel stations, 1 lubricants factory, 8 fuel terminals, 1 LPG terminal, 18 airport supply units. Having an advanced technology and accreditation capability POTEM(Petrol Ofisi Technology Center) carries out R&D studies of lubricants, antifreeze, grease and fuel oil products.

Petrol Ofisi is the only company in Turkey that can offer all bunker types, marine lubricants and services together to the marine industry: Transit (tax free) bunkering, domestic SCT-free & bonded fuel bunkering.

As the business partner of Chevron in engine oils, industrial and marine lubricants in Turkey, Petrol Ofisi serves more than 400 lubricant products. Petrol Ofisi makes a difference in the maritime industry and strives to help you reach your destination faster and safer.
ESENYEL & PARTNERS is Turkey's leading law firm based in Istanbul having correspondent lawyers and offices all over the country in cities such as Izmir, Canakkale, Kocaeli, Samsun, Trabzon, Mersin, Iskenderun and Ankara and worldwide.
As a law firm, we are advising the world's leading companies in all areas of law and offering a full range of legal services in our key sectors such as shipping, insurance, trade and commodities. Our Legal and technical team are qualified and experienced in working in a challenging international environment.
We owe our success to the fast, practical and high quality service we provide to our clients. Our highly experienced lawyers take a hands-on approach to the practice of law and provide both legal and technical assistance in favour of our dedication to understanding specific sectors of represented clients.
We have used the highest ethical and professional standards, combined with the firm's reach and depth of understanding of the law, to help it deliver better and more innovative solutions. Our solution-driven approach combines the excellence of legal assistance with commercial awareness and the counsels advise the world's leading companies in extensive fields of law. Besides our deep expertise in shipping, logistics and trade, we have an effective commercial practice specialized in commercial disputes, contractual claims and international arbitration especially in LMAA, FIDIC, GAFTA and FOSFA arbitration. From the beginning, we aim to consistently develop a trustworthy relationship with our Clients by advising them on their most significant transactions and disputes.
Dogruyol Shipyard was established in 2017 in Yalova/ Altınova shipyard area.
As Dogruyol Shipyard, our vision is to become the best ship repair and maintenance shipyard in our region for drydock size vessels with ultimate attention quality and safety.Our teams are highly qualified and authorized in their responsibilities and we do not create congestions with internal heavy bureaucracy.
The shipyard has a total land area of 20.000 m2 and 350m of berthing facilities.Lay berth,lifting capacities,land repair facilities,ship repair tools and equipment are available to service our clients
In repair side we are serving our customers with our floating dock with 140 meter length and 22 meters inner clear beam.
Dogruyol offers different size of repair floating docks mentality. In 2019, Dogruyol Shipyard started the operation of ship's moving system  to ground with trolley,so we can repair 140 meters sizes 4 different bottom ship repairs in same time. Conversion and critical repair works process succesfully carry out on ground with trolley system which only can be done our shipyard in Türkiye.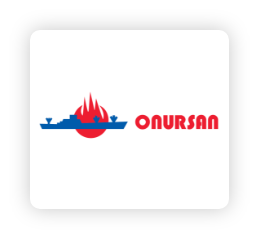 The story has begun in İstanbul, Turkey when the company was established in 1983. Our owner and founder is a marine chief engineer with almost 50 years of maritime experience.
We are thinking always to improve our sevice quality and gain more customer satisfaction. Onursan can provide you the sevices with the most experienced technical team in Turkey. Now that we are also serving our customers in USA, we are able to offer you same range of services.
We know the importance of life at sea and we know that you need a sevice company.
Onursan is adding the new vision of marine fire and Safety sevice to the marine industry market by its reliable name and innovative approach to its customer needs. Not only we like to achieve more success on getting our company to a higher leauge of competion but also we would like the others to follow the path that we have created. We take pride in what we have achieved with our the most experienced team.
Being a family business company has never helped us more than anything to be a real family with our co-workers. Yes we are a family, a big family whom can trust, when and wherever you need FRS service for you ships. Because we know this job more than any others here..
OMNI is one of the world's leading marine insurance brokers with more than 40 years' experience in the maritime sector. Our broking services focus primarily on ship owners, managers, charterers, cargo owners, shipyard and terminal operators. We pride ourselves in being creative to provide effective solutions for our clients' insurance requirements. As an Omni client, you will have the security and peace of mind expected from a company that enjoys well-established relationships with the world's leading maritime insurers, including Lloyd's underwriters and leading Protection & Indemnity Clubs.
Omni is a member of the Lockton Group of Companies who is the world's largest independent insurance broker firm with more than 100 offices and 85,000 associates offering more than 65,000 clients worldwide.
Nippon Kaiji Kyokai, known as ClassNK or NK, is a ship classification society. The Society is actively engaged in a growing range of ship related activities and services aimed at contributing to promoting the protection of human life and property at sea as well as protection of the marine environment.
ClassNK is dedicated to ensuring the safety of life and property at sea, and the prevention of pollution of the marine environment.
To achieve this mission ClassNK focuses on delivering the highest quality classification services, by the highest quality personnel, while maintaining its totally independent third party, non-profit status.
Jotun was established in 1926 at Sandefjord, Norway. For almost a century, Jotun has protected property – from iconic buildings to beautiful homes. As one of the world's leading manufacturers of paints and coatings, Jotun combines high quality with creativity and innovation.  The Jotun Group is a matrix organization divided into seven regions responsible for the sale of Decorative Paints, Marine, Protective and Powder Coatings with an operating revenue of 21 billion NOK. Jotun is currently present in more than 100 countries with 38 production facilities and 67 companies on every continent, Jotun is a true global player.  Jotun operates in four segments: Decorative Paints, Marine Coatings, Protective Coatings, and Powder Coatings. Each segment offers its own solutions, but they all share our vision of using paints and coatings to protect property. With Jotun's complete solutions, buildings are created without compromise. Jotun's company values – loyalty, care, respect, and boldness – are the building blocks of our company culture, called "the Penguin Spirit".
Coctail Reception Sponsor
Nippon Paint Marine business is a subsidiary of Nippon Paint Holdings, Asia's foremost paint supplier and the world's fourth largest coatings company. With a global manufacturing and distribution network Nippon Paint Marine has been producing marine coatings since the 1880s and is widely regarded as a pioneer in the development hull protection and antifouling paints.  We make every possible use of Nippon Paint Group's technology in research and development. Nippon Paint Marine not only works on researching paints, including original coating technologies to develop safer and more eco-friendly products, but also has made an early start on extensive studies of marine organisms and fouling mechanisms, essential to the development of antifouling technology. Established in 1973, our marine research centre in Okayama is the first of its kind in the world for marine coatings' suppliers has enriched basic research, including the study of marine growth, its attachment and consequently its prevention.  As a result, research by Nippon Paint Marine was able to develop and launched Ecoloflex, the world's first self-polishing (SPC) tin-free antifouling paint in 1991. The first low-friction LF-Sea series followed in 2008 and in 2017 the organisation introduced Aquaterras, the world's first biocide-free antifouling paint.  In 2021, Nippon Paint Marine introduced FASTAR the industry's first antifouling coating with a nano resin structure. Nippon Paint Marine is accredited to ISO 14001 environmental standards and manufacturers coatings products in line with UN Sustainable Development Goals.